In the last chapter, we discussed:
Who this series is for.
How not being active on social media is losing you money.
Whether social media can bring you a positive ROI.
What should a perfect social media management company offer?
The common misconceptions most people have when hiring an SMM company.
If you didn't read that chapter, I highly recommend you do so. Click here to read Chapter #1
But if you have come here straight from Chapter #1, let's start!
---
CHAPTER #2
What Social Media Management Companies Do vs What They Should ACTUALLY Do?
When an eCommerce business owner decides to hire a social media management company, he or she tends to do what everyone does when they need to find out about something they don't know much about.
You go to good ol' Google and search. Let's start there.
Most of the businesses you find on the top 10 Google results when you search for "social media management services", offer their services in the wrong way.
They do all kinds of things that distract you from reaching the goals of increasing your organic social media followers and improving their engagement rate.
These distractions not only stop you from reaching your goals, but they also do a lot more damage than good to your social media accounts.
Let's look at the top 4 dangerous mistakes these SMM agencies might make.
THEY'RE A BOUTIQUE STORE
Compare the big marts with your local bakery owner. The 2 goals of these big, humongous marts are:
Get people into their locations.
Upsell them into different things.
To attract us to their locations, they bait us with convenience. The size of the stores and the ambiance all play a role in that, and then, they upsell us into other products, by strategically placing these products in different parts of the store, where we are tempted by them.
Ever wondered why you bought that thing you didn't even use? That's the power of upselling.
Now, these marts never care about your problems, all they focus on is to upsell you into buying something else. They don't know you, and they don't know your preferences.
It's just a game of numbers. The more people in their locations, the more sales they get.
Now, compare them to your local barber. These people love what they do; they know how to cut different styles and mistakes to avoid.
More importantly, they get to know your preferences and the problems you have with your hair. Because of that, they'll always recommend the best hairstyles and hair products you are most likely to love.
I bet you cannot find the same level of care with those big marts.
A company offering social media management, paid advertising services, SEO, content writing, web design, graphic design, and 100 more services?
No, thank you.
The more services they provide, the less their focus will be on actually delivering you the service you paid for. It also affects the speed and quality of the results they can deliver.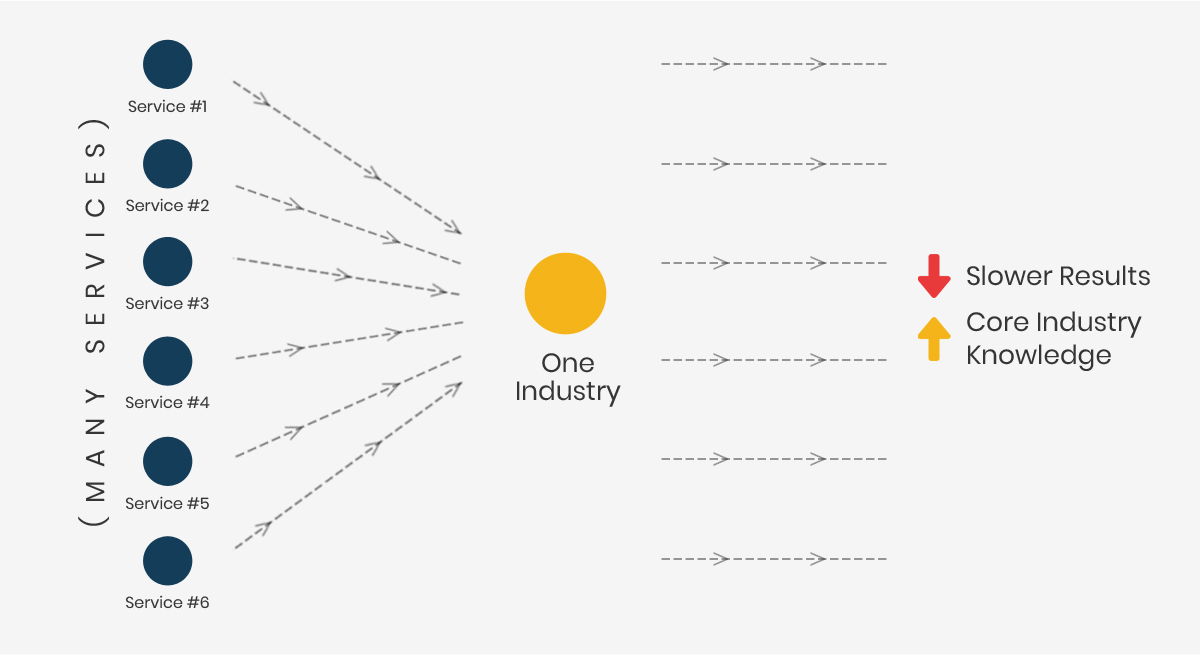 And the worst thing is that they'll constantly upsell you their "other" services. You'll be better off avoiding a company that doesn't deliver the service you paid them for, and who are trying to squeeze every last penny out of you.
Instead, use a company that offers, and excels, at social media management services only.
THEY SERVE EVERY LAST INDUSTRY OUT THERE
Similar to the above point, these companies claim that they serve every last industry out there. B2B, eCommerce, financial services, healthcare and medicine, real estate, law firms, restaurants, fitness, professional services, charities, and the list goes on.
Now, I don't say serving multiple industries is bad. It's just that businesses that don't focus on delivering one service to one set of customers can't deliver excellent results.
Here's how their focus is spread across multiple services offered to multiple industries.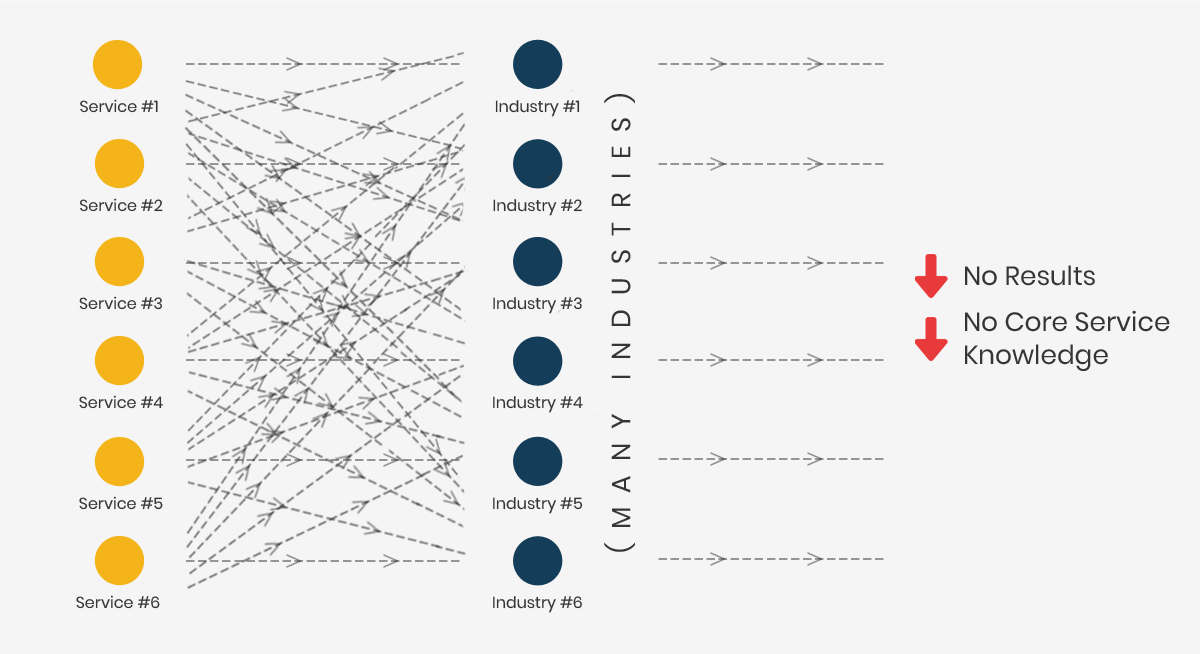 When companies are multi-focused, they lose the core knowledge that they need to offer top-notch service, and their competitive edge and service quality suffers.
Let me explain why:
We at Socialit Premium offer social media management (one service) to eCommerce businesses (one set of customers).
We know exactly who our customers are (eCommerce business owners), and what they're looking for (a company to create & publish targeted content to increase their followers and engagement rates).
We also know that eCommerce businesses thrive on Instagram & Pinterest more than Facebook, Twitter, or LinkedIn. This core industry knowledge is not something they offer.
Now, every strategy we implement, and every team member we hire, are all geared towards one single end goal, increase our customers' followers and engagement rates.
Because we are singly focused, we can reach those goals faster. Isn't that what you expect from a social media services provider anyway? Faster results.

THEY ARE OPERATIONAL RATHER THAN BEING STRATEGIC
There is a sharp difference between operational (short-term goals) vs. strategic (long-term goals).
Social media management companies should do both. They should build a long-term strategy that takes your followers through a carefully built customer journey while meeting the weekly/monthly goals of increased followers and their engagement rate.
If the company you want to hire is boasting about their use of short-term tactics and trends, beware.
Using your top keywords and popular hashtags DO get you immediate, short-term results; but if they are not directly contributing to your strategic goal, you're doing more damage than good to your brand.
Let me explain what a carefully built customer journey is:
There are 3 types of eCommerce customers. Let's look at each.
Problem-Aware – They know they have a problem that your products can solve, but don't know there are solutions out there.
Solution-Aware – They know their problem and know that there are solutions out there, but they just don't know which solution/solution provider to trust.
Unaware – These people are completely unaware that they have the problem your products can solve, let alone the solutions.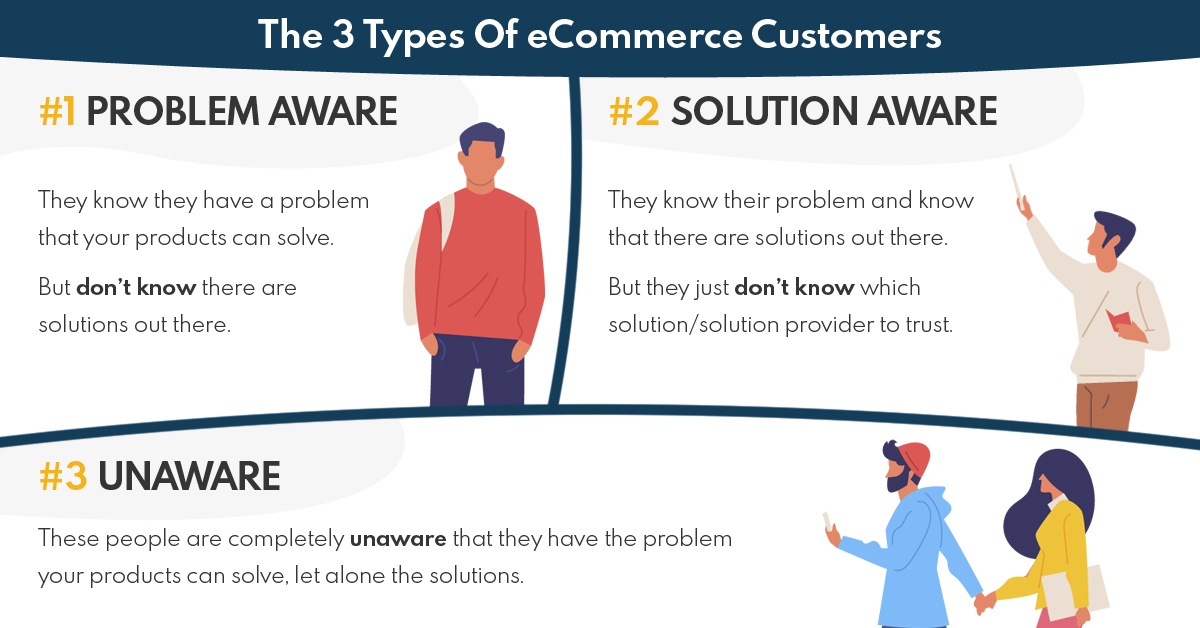 Now, the customer journey for each type of customer starts differently, with different messaging. Note that your followers will be a mix of these 3 types.
The "Unaware" type needs to see content that tells them they have a specific problem and transition them into the "Problem Aware" type.
The "Problem Aware" type needs to see content that shows them how severe their problem is, and gives them the hope that there are solutions out there.
The "Solution Aware" type needs to see content that answers both their emotional and logical reasoning of why your product is the best and why they have to buy from your company.
Ideally, this is what your customer journey will look like.
STEP 1: They start at "Unaware", finds your posts, and understand that they have the problem.
STEP 2: As they understand the problem, they become "problem aware". Now, the content, that shows them how severe their problem is, makes them look for a solution.
STEP 3: At this step, if you show them content that positions your product as the best solution to their problem, they're going to buy.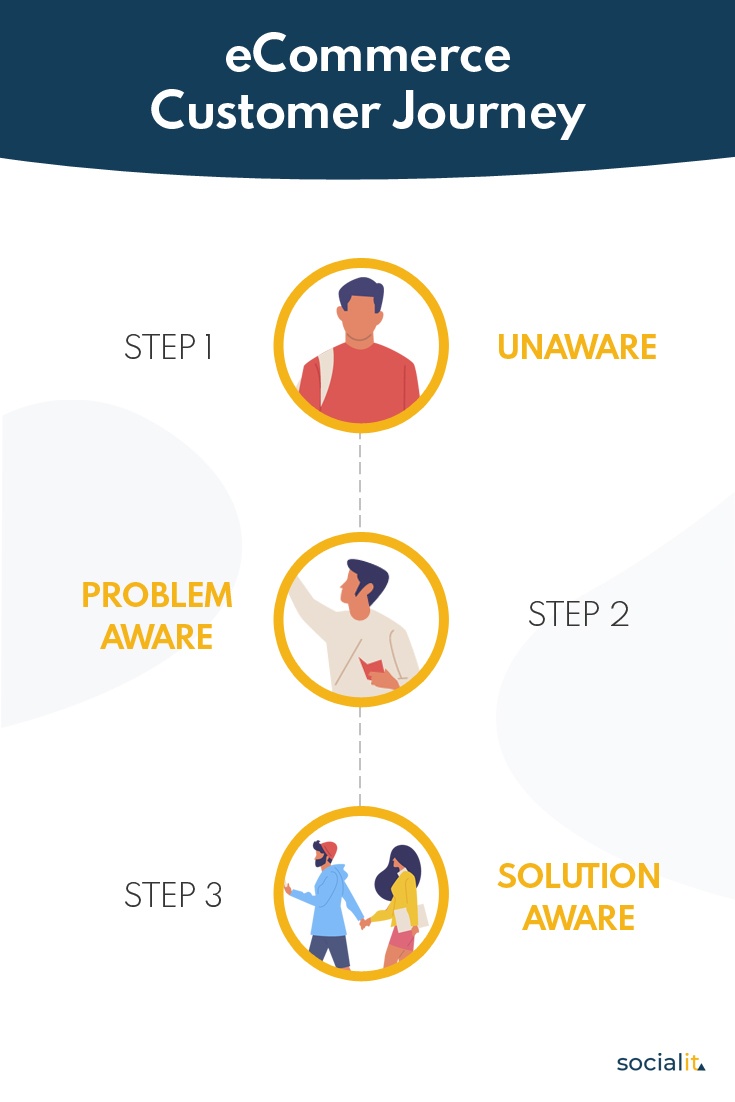 Now, the world isn't ideal and we cannot expect every follower to start at the "Unaware" step. The content your social media management company produces for you should hit all these 3 customer types, and take them to their respective next steps.
If they're just producing random posts, using every hashtag, and hoping some random post will connect with your audience, you are just wasting your time, money, and damaging your brand's value altogether.
This article from Chron explains the difference between strategic and operational objectives better:
THEY DON'T PRODUCE CONTENT, THEY CURATE IT
Don't fall prey to their fancy tactic of "hand-curated content". How you curate content doesn't matter as long as you "curate" it, it's still other people's content.
Authenticity is one of the major reasons some brands excel on social media. You know your customers better than anyone else; you know what their pain points are, and how your products are going to solve those pain points.
You can inspire, entertain, and educate your audience. A social media management company should understand this and act as an extension of you.
Remember, you want to hire a social media management company because you don't have enough time and resources to do it on your own.
Agencies, who don't understand this, just curate content.
One of the worst disadvantages of using these companies is that they sometimes post your competitors' content on your social channels, which is a big no-no.
Here's one incident:
I'm not going to reveal who that company is, as I don't want to publicly expose them, but be aware that this kind of company exists.
An effective social media management company should create content for you. They should do their research and figure out what kind of content suits which type of customers.
They should design posts that inspire, entertain, and educate your audience. Did I mention that they have to be custom designed?
CUSTOM-DESIGNED vs. CURATED POSTS:
Here's how an Instagram feed with curated content looks like. The company sells under-garments and the posts here aren't related to their niche.
Here are the examples of 2 Instagram feeds with carefully crafted custom-designed posts:
(Disclaimer: The 2 examples below are the posts we've created for our clients)
The above company sells kayaks. We've created 3 types of posts here, one is a graphic that connects with their audience, the second is a fishing video (client provided this video & we edited what we need.) and the third is a photo of their product (kayak) in a lake.
The wide range of content types we post will attract their audience and we are seeing a 200% increase in their followers and engagement rates. Read their case study here.
For the above client, we went in a different direction. They sell craft coffee beans and their audience is more casual. So we choose memes, myth busters, and informational content, with a fair share of product promotions.
Which feed do you think is more lively and attracts your audience? curated or custom-designed?
To summarize, your social media management services provider should actually do these things:
They should focus on social media management only, and help you grow your following and their engagement.
They should serve your industry (eCommerce) only.
They should be more strategic than operational.
They should create content and not just curate it.
---
SCAMS YOU HAVE TO AVOID WHEN HIRING A SOCIAL MEDIA MANAGEMENT COMPANY
As with many services, there are wrongdoers.
You can either learn about the scams that social media management companies do, through experience, or you can just read this section to understand what they are and how to avoid them.
HISTORICAL CASE STUDIES
Don't get me wrong, but case studies or results from 2016 aren't going to work in 2019.
See, social media is constantly changing; something new is popping up every single day. If you say that the client you've worked with got 129% growth in 2016, it's not going to help me today.
I'm not sure how exactly you were able to pull those results, or if you can do the same now with my brand. That's not even asking if the client was happy with your service.
To mitigate this risk, just ask for their latest results, the results from the month before.
An added advantage of asking for the latest results is that you'll know if this social media management company is telling you the truth.
There are cases where some companies put up past case studies and the social media profiles of a client that doesn't even exist.
HIGHLY FOCUSING ON ADVERTISING
As discussed in Chapter #1, if the social media management company is trying to add paid advertising to the mix, beware.
Paid advertising is a short-term goal. Run a few ads to your target audience asking them to like your page and you'll get a ton of likes.
Many SMM companies want to add advertising to the mix because of this. If they mess up your social media management side, they can still run post ads and force your audience to like the posts they've created for you.
Don't you think showing a post to 10,000 people generates some odd likes? There you go. The worst part is that you're going to pay for those ads.
PROMISING GUARANTEED WEBSITE TRAFFIC
Another scam they try to lure you with. You can bring traffic to your site from social media in 2 ways.
One is to run ads promoting a discount or an offer and the second is to use influencer marketing (paying an influencer to promote your discount/offer to their audience).
Risking the chance of sounding like a broken record, I want to say this yet again:
What social media does best is to inspire, educate, and entertain your potential customers and position your products as the best solution to their problems.
If your social media management services company is promising you guaranteed traffic, make up your mind that they're not going in the right direction.
---
THE PROS AND CONS OF USING A SOCIAL MEDIA MANAGEMENT COMPANY
PROS
1. The tools you use to conduct your social media management are as important as your strategy. SMM company can afford the most advanced tools that can make all the difference in growing and engaging your audience.
2. Multiple social media experts work on your account. 2 brains are better than one, what if 3-4 creative brains all work together on your social media? The right players in the right seats can boost your growth exponentially.
3. Precise reporting and analytics as the company will have experience in analyzing and understanding social data every single day.
4. Out-side perspective, experiences, and learning from other clients they work with. This exposure to different brands, customers, and their perspective, promotes fewer errors and rapid strategy innovation.
5. Customer support – Your company tracks the DMs, comments, and brand mentions every single day, and when someone asks for information, they can answer them right away, giving a better experience to your potential customers.
CONS
1.Access to Information – One of the biggest cons to mention. Agencies are outsiders and they will not have direct access to the latest happenings in your company. This misses the HUMAN side of your company on social media.
2. Your company's knowledge of your brand's voice and your potential customers can take some time to get right, and may not be at the level you want in the early weeks.
This is especially true if your products are technical.
But the good news is, all these cons can be eliminated with some bulletproof processes and a customer avatar in place.
A social media management company that knows what they're doing will have these processes perfected.
---
5 SKILLS YOUR SOCIAL MEDIA MANAGEMENT COMPANY SHOULD OFFER
DESIGN
This doesn't include stock photos! A professional company will have in-house designers and content curators.
Your brand can't stand out if it's using the same stock photos as every other business online.
Remember, a designer (no matter how professional) cannot curate the right content for your audience. An understanding of your audience is not something a designer can help you with.
STRATEGY
As I've mentioned, this should be focused on the long-term success of your business. A focus on continuous, organic output is essential. Having bursts of activity on your account, followed by two weeks of silence, does not gather followers and their engagement.
Ask to see previous campaigns and how they managed to increase engagement, but also how they managed to maintain this increased activity.
While you examine these samples, also look out for the frequency of posting and comment responses. Signs of inconsistency signal that the company is probably amateur.
ANALYTICS
You need to see what is and isn't working. The whole point of increasing your social media presence is to gather a huge number of your potential customers and turn them into actual customers, so you need to be made aware of spikes, and dips, in your followers' activity.
A great company analyzes the posts they publish every day to figure out the best performing posts in terms of likes, comments, and shares, and then, creates more of those for the next week.
This means that the social media management company wants to improve their performance and get you results. Period.
SOCIAL RESPONSES
Addressing each query and comment makes your audience feel welcome and heard. Your future company needs to show you how hard they work to nurture communities for their current clients.
If the company thrives in this area, they'll soon be converting your current customers into brand ambassadors, so it really is a necessity in your marketing plan.
CREATIVITY
Social media platforms thrive on creativity, so a company that looks after business accounts needs to have this by the bucket load.
If you look at the biggest Instagram business accounts, they don't produce generic content for a reason. Ask for the best/top 3 posts they've designed and seen if they're creative enough.
---
Now you should be able to understand what social media management companies do, and what they should actually do.
You know the scams you need to avoid, the pros & cons of using an SMM company, and the 5 skills your social media management services provider should offer, so put this knowledge to work.
---
WHAT'S NEXT?
In the next post, we are going to cover the following:
1. Why and how you should prepare your social accounts for social media outsourcing.
2. The questions we ask our customers while onboarding them. (With a FREE fillable PDF for you to download and use.)
Stay tuned!