The perfect resource for e-commerce business owners who are looking to hire a social media management agency.
This series is full of insights and actionable steps you should take to understand your options, eliminate the false starts, scams, and missteps that come along with it.
---
WHO IS THIS BLOG SERIES FOR?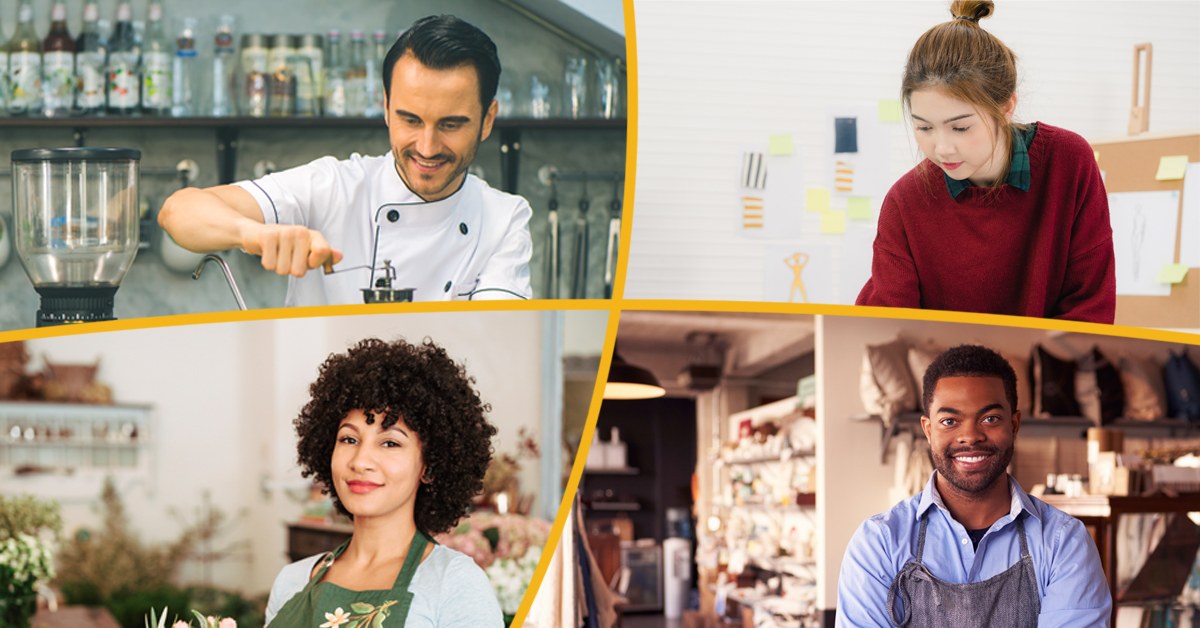 Before diving into the series, let's understand who this series is designed to help the most.
This series is for e-commerce/retail business owners who have unique products or services that their customers cannot find elsewhere.
Your products are already market-proven (people are buying them and are happy) and you've built a successful business already. Now you want to build a brand, expand and reach a larger audience.
You've tried doing social media on your own, but it didn't work out. Now, you're looking to hire a social media management agency to do it for you.
If you don't fall into this category, this series isn't for you. You might still read and understand how to hire a social media agency, but this series might not solve your exact problem.
Also, you drop-shippers out there, stay away! This is for real businesses, not you.
---
WHAT YOU'LL LEARN?
Once you read through the series and take the actions that we recommend, you'll have learned the following:
Clarity on what social media channels you have to be active on.
An understanding of who your audience is, and where to find them (Customer avatar).
A checklist to scan every SMM agency, allowing you to weed out any that do not match your needs.
The scams you have to avoid.
How to prepare your business & your accounts for social media outsourcing.
Clarity on the different options you have and their price ranges.
A special offer at the end to kickstart your social media presence.
---
WHAT DOES THE SERIES INCLUDE?
The series is divided into 4 chapters. Here's what we are going to cover in each chapter.
CHAPTER #1:
How not being active on social media is losing you money.
Can social media bring you a positive ROI?
What should a perfect social media management company offer?
Common misconceptions most people have while hiring an SMM agency.
CHAPTER #2:
What social media management agencies do, and what they should ACTUALLY do to generate results.
The scams you have to avoid.
The pros and cons of using an SMM agency.
5 skills your social media management agency should offer.
An actionable checklist that you can use to make sure you're hiring that perfect agency.
CHAPTER #3:
Why & how you should prepare your social accounts for social media outsourcing.
The questions we ask our customers while onboarding them. (Fillable PDF for you to download and use.)
CHAPTER #4:
The options you have to manage your social media accounts.
How much will it cost to manage multiple social media accounts?
An unbiased comparison between the top 5 social media management companies out there.
Let's get started with Chapter #1.
---
CHAPTER #1
HOW NOT BEING ACTIVE ON SOCIAL MEDIA IS LOSING YOU MONEY?
If you're an e-commerce business owner, you know how important social media is.
You spend a ton of cash every single month to run ads on Facebook & Instagram. But have you ever wondered why only a few people buy from you? In technical words, why only a few clicks convert into sales?
This is what happens when someone clicks on your ad.
Step 1: They visit your target page. Home/product/landing page.
Step 2: They show interest in your products.
Step 3: They want to buy from you, but they aren't aware of your brand.
Step 4: Now they do 2 things. 1 is to search on Google for reviews and information about your company. The 2nd thing is to check out your social media accounts.
Now, if you have good reviews on Google My Business and other review sites, you've passed Test #1 and go on to Test #2, checking out your social media accounts.
When your potential customers are on your social media accounts and all they see is a post from 3 months back, you've failed the test. You see, people trust companies that are active, companies that understand and connect with their audience.
And when they see that you're "actively" running ads, but not "actively" trying to connect with them via social media, it sends them a signal that you are in there just for their money and not to understand or solve their problem.
This is a very dangerous message to send out, especially if you want to grow a brand.
That's why big brands like Chanel, Starbucks, Mercedes Benz, etc. all maintain engaging social media accounts. On average, they post once a day.
Yes, they run ads on TV and billboards, in magazines, and on social media, but they also use social media to connect with their audiences.
Sending a very positive signal that the brand DOES want their money, but only after understanding or solving what their customers want.
A few brands, like FashionNova, go beyond the norm and post up to 30 times per day. Just to make sure their worldwide audience does not miss their posts, irrespective of their time zone.
If you're not maintaining engaging social media accounts, you are losing your potential customers at Step #4. Are you sure you want that to happen?
---
CAN SOCIAL MEDIA BRING ME A POSITIVE ROI?
Social media management cannot get you a direct ROI; the post you publish today might not get you a sale. But what it does do is amplify your paid advertising efforts.
As illustrated in Step 4 – Test #2, if that potential customer checks out your social media accounts and sees that you are publishing engaging content every single day, and your followers are liking, commenting, and sharing your content, that's the final push they need to trust a new brand like yours and to buy.
If you shift to this perspective on social media, it's a great ROI generating marketing tool.
---
Related: Why Should You Move From Paid Advertising To Organic Social Media Management?
---
WHAT SHOULD A PERFECT SOCIAL MEDIA MANAGEMENT COMPANY OFFER?
The agency you hire should help you with the problem that we've just discussed. They have to understand what your potential customers need, create engaging content related to that, and post every single day. If they don't, there is no point in hiring them.
A perfect social media management company offers you the following:
Creates original content that's related to your niche and audience.
Posts daily on at least 2 of your social media channels. We will talk about how to choose the top 2 social media channels, which you should be active on, later in this post.
Resize those posts to the recommended sizes of the social platforms. You cannot publish a post that you've created for Instagram (square size) on Pinterest (tall graphics)
Strategically promoting your products every week, while educating and entertaining your audience.
Using highly relevant hashtags on Instagram, so as to reach more people.
Increase your followers.
Increase their engagement.
Prepare your followers for your next special deals/offers/product launches.
Respond to comments, DMs, and brand mentions.
Analyzing your top-performing posts and doing more of them.
Reporting to you weekly on what's happening. Not to mention they also have to offer you a 30-day money-back guarantee if things don't work out, taking the risk away from you. Case studies and testimonials are a must; it applies to any service and not just social media management.
We will discuss in-depth what they usually offer vs what they should ACTUALLY offer in chapter #2.
That being said, most people have a few common misconceptions when hiring a social media management agency. Understanding the truth behind these misconceptions can help you find the correct path while hiring one.
Let's have a look at the top 4 misconceptions.
COMMON MISCONCEPTIONS:
1. Social media management and social media marketing are one and the same.
While social media marketing includes being active on your channels and running ads, social media management is solely about building a community of potential customers, nurturing, and engaging them. This doesn't include ads.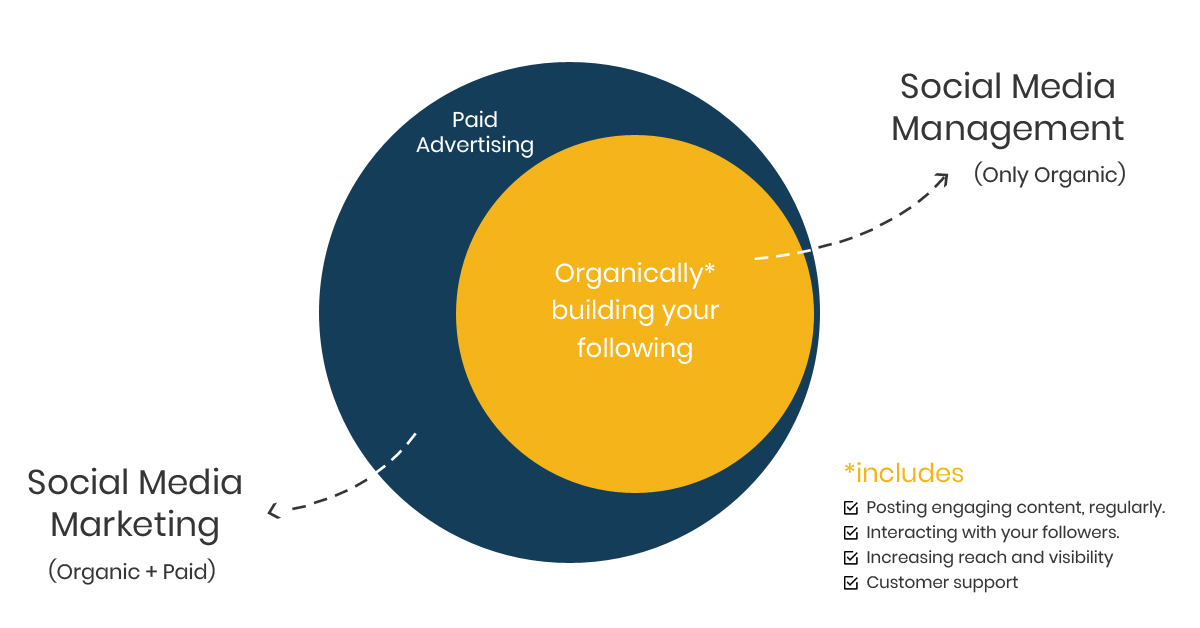 The goal of social media management is to connect and remind your potential customers that you exist, care about their problems and you have solutions to their problems. And then, when the time comes, they will remember you and buy from you.
The goal of social media marketing is to generate leads and sales from people who don't know you exist. Adverts aimed at people who don't know you will receive low levels of interest and poor conversion rates.
It's mind-boggling that some social media service companies don't understand this difference and often confuse people who are looking for these services.
2. Should an SMM agency help me with every social media network out there?
Just because there are 197+ (according to Wikipedia) social media networks out there, neither you nor your social media management agency should be active on all of those.
Sure, there are a few popular networks, namely Facebook, Twitter, Instagram, Linkedin, and Pinterest. But you should be able to figure out which social networks can really help you, and which are a waste of time. You can do it by knowing and understanding your customer avatar.
According to Digital Marketer:
"A customer avatar is a fictional character that represents your ideal prospect. When complete, it will help you understand the motivating beliefs, fears and secret desires that influence your customer's buying decisions."
Download Digital Marketer's Customer Avatar Worksheet
Once you understand who your customer is, why they need your products, and which platform they use the most, you can then prioritize the top 2 networks that you should be active on. After all, you are after those people, right? It only makes sense if you go where they already are.
For example,
If your target audience is older (women in their 40s – 60s), your #1 priority should be Facebook. Not a Facebook page, but a Facebook group. Why? Because this audience will be more interested in being a part of a community and feeling a sense of belonging, rather than following a Facebook page, or an Instagram profile, which talks about the latest trends.
The same applies to a younger audience, for example, men between 20 and 25. Where do you think they want to hang out? Is it a Facebook community, or is it an Instagram profile, which talks about the latest trends?
Now, once you find the top 2 social media channels that you should be active on, see if the company you want to engage with offers those channels, and more importantly, you have to be sure they understand the concept of customer avatars.
3. Is a Social Media Management Agency a magic-pill for my company's growth?
I'm here to say no, it's not. Sure, SMM agencies can help you build a following and engage your potential customers. But they're not a magic pill that can get you tons of traffic, leads, and sales.
Building a following effectively helps you with 2 things, serving to give that final push your potential customer needs, and keeping your brand at the top of their minds, every single day.
These 2 things amplify your paid advertising campaigns, which can bring you a ton of traffic, leads, and sales.
Remember, you still have to run ads but you run them to your followers who liked your content. The conversion rates will be much better when you run ads to people who already like you, instead of people who don't even know about you.
4. I will test social media for a month and see.
As with doing anything organic like Google SEO, building a business, or raising a child, social media takes time to build and to show you some significant results.
Expecting a newborn to run is, well, unreasonable, it's the same with expecting profits in a business you started a month ago, and you know where I'm going with Google SEO.
Understanding your business, products, your audience, and what they'd be interested in takes time. And then, creating content that attracts them takes some more.
If you're looking to hire a social media management agency, give at least 3 months before deciding if they're able to generate results for you, but don't make this a rule, if you're sure they aren't putting their efforts into building your social profiles, pull the plug immediately.
But if they do put in their efforts and still were not able to generate significant results, give that agency at least 3 months, help them with understanding your business, audience, and in creating engaging content.
---
WHAT'S NEXT?
Now that you've understood what the exact problem is, how social media management can help you, what a perfect social media management agency should offer, and the common misconceptions that most people have, it's time to take a look at where we are going next.
In the next post, we are going to cover:
What social media management agencies do, and what they should ACTUALLY do to generate results.
The pros and cons of using an SMM agency.
5 skills your social media management company should offer.
An actionable checklist that you can use to make sure you're hiring that perfect agency.
Stay tuned!