Let me ask you a question, why do you go to Facebook, Instagram & Twitter? Why do you maintain these accounts and stay active there?
Firstly, it's because you, as a consumer and not a business owner, want to share your updates with your friends and family, and secondly, it's because you want to know what your friends and family are doing and check out their posts, photos, and videos.
But Pinterest is different. On Pinterest, users login to create their plans. It's not about sharing updates with others or checking others' posts, it's about them. Pinterest moves the focus of the users from "posting for others to see" to "collecting stuff for themselves"; they change the "them" time to "me" time.
It's more about individuals, their passions, and things that help people to do actual things in their lives, rather than "catching up with friends & family."
In this video, Alastair Cotterill (Former Head of Advertising Creative) puts it best:
People come to Pinterest for

themselves

and not for their friends.
A popular piece of research, carried out by Millward Brown Digital in association with Pinterest, revealed this interesting fact:
"We found that active Pinners were 47% more likely to experience a major life event in the next 6 months. They are also disproportionately using Pinterest to plan for these moments—and this is especially true for Millennials.

Whether consumers are getting married, buying a home, remodeling or redecorating, having a baby, buying a car, taking a vacation, or simply planning a party or dinner for the night, they are more receptive to new ideas and new brands."
Let's read that again!
"They are more receptive to new ideas and new brands."
And that's the key. It's a complete mind shift if you think it through. On Facebook, Twitter, or Instagram, new brands struggle to gain some ground, while bigger brands skyrocket, but on Pinterest new brands also have a chance to skyrocket.
Another advantage of Pinterest is that it has removed many stages of the customer buying cycle. They don't have to go through the awareness and consideration cycle; because they will be in that "buy" mode, they will select the product they want to buy and go buy it from there.
In Pinterest, a customer can see and buy the product, even on the platform itself, removing any friction in the process.
When it comes to average order size (a major metric in eCommerce) Pinterest rules.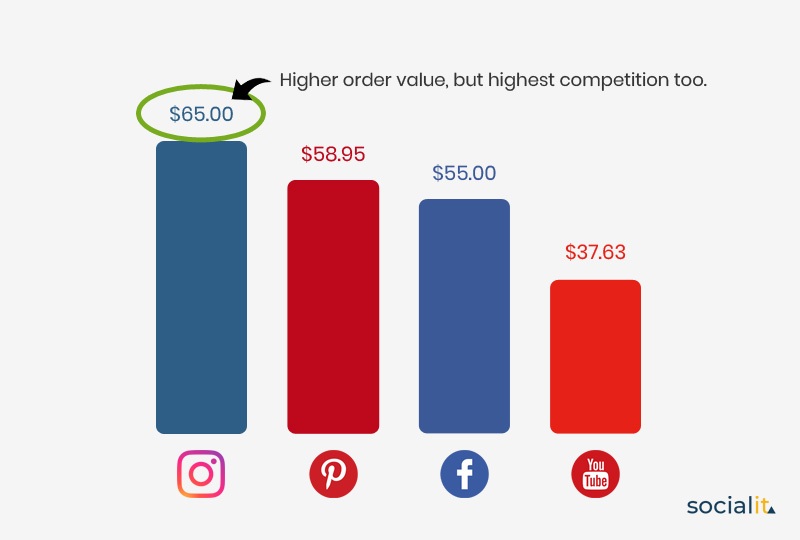 According to a piece of Shopify research, Pinterest's average order size is $58.95, compared to $55 for Facebook.
---
How Pinterest Users Are Different?
Almost every Pinterest user creates their "need to buy" plans or as Pinterest says boards.
"Pinterest boards are the users' personal happiness collages".
This quote from Dr. Christopher Long from Ouachita Baptist University says it all.
"Pinterest boards are like its users' personal happiness collages. [They represent] things that I appreciate, that I desire, and that express who I am, whether the things are cupcakes, a shirtless David Beckham, or an inspirational quotation".
Unlike Facebook, which charts a user's "interest graph", Pinterest charts a user's "desire graph".
These boards are their way of expressing their ideal self, they want to see themselves in those places, they want to use those products and they want to try that next recipe or DIY project.
This is where it becomes interesting. In the above video, Alastair Cotterill says that 70% of their pins are from brands, so when we consider the almost 2 billion searches per month, 70% of that is 1.4 billion searches, which are of brands, and the best part is that Pinterest users welcome it. 78% say it's useful to see content from brands, often new brands, on Pinterest.
Pinterest users have the highest buyer intent, they are not going there to just plan a wedding, look for recipes or their next DIY project. They're deciding what to buy!
90% say Pinterest helps them decide what to purchase
66% buy something after seeing a brand's Pins
72% say Pinterest inspires them to shop when they aren't actually looking for anything
70% discover new products on Pinterest
A study on Pinterest from Millward Brown says:
93% of Pinterest users planned their purchases on Pinterest.
And, 87% of users decided on purchase using Pinterest.
These are staggering metrics and not something you can see on other social media channels. However what products are they buying the most?
Retail (eCommerce). Statista.com says that these 10 categories perform the best on Pinterest.
Art, Art supplies & hobbies
Flowers, Food & Drinks, Gifts
Home, Garden, Pool/Spa
Health & Beauty
Clothing & Apparel
Entertainment (Books, Music, etc.)
Jewelry, Handbags & Accessories
Sporting Goods
Footwear
Baby Gear
All of this boils down to one thing; if you are selling physical products from these niches then Pinterest is your gold mine. Unlike Facebook, Twitter, or Instagram, Pinterest users are more of a "collect and buy" and not "sharing with my friends & family" type.
---
Now let me tell you the good news; not everyone is taking advantage of Pinterest.
Yes, those drop-shippers and Amazon affiliate marketers aren't on Pinterest yet, but of course, there are a few who are already using the platform and generating great results, but the point is that it is not yet a saturated market. This leaves a ton of opportunities for eCommerce business owners like you.
Let me back up my words with some stats:
On the organic side, Pinterest has 250 million monthly active users; in contrast, that's where Facebook was in Q2, 2009.
Twitter in Q1, 2014.
Instagram in March-December 2014.
The paid advertising revenue of Pinterest in 2018 is just getting close to $1 billion. Facebook reached that mark between 2009-2010, Twitter in 2013-2014, and Instagram in 2015-2016. That's a "billion-dollar revenue" company every 2-3 years and now, it's Pinterest's time.
Do you see what I'm trying to convey? Pinterest will be the next Facebook, next Twitter, or next Instagram. There is a massive amount of potential and it's growing rapidly. If you missed the opportunity of being active on Facebook and getting a load of organic traffic in 2009-2013, or by using Twitter in 2013-2015, or Instagram in 2015-2017, then you must now focus on Pinterest in 2018 and 2019.
Remember, we all have another chance with Pinterest.
Use this opportunity to build a brand on Pinterest and when everyone is on the platform, you will have gained that first-mover advantage over your competitors.
This is what makes Pinterest the untapped social media channel for eCommerce businesses. What do you think?
Do you agree with my points? Let me know in the comments section below.